Qualifications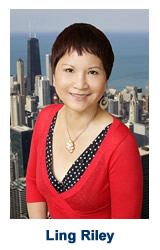 LODGISTICA founder, Ling Riley, utilizes 30+ years of luxury hotel sales and marketing management experience to steward this innovative executive service company.
Following impressive tenures in senior sales and marketing management with Four Seasons Hotel, Rosewood Hotels & Resorts, Mandarin Oriental Hotel Groups, Orient Express Hotels, and The Garrett Hotel Group, Ms. Riley launched LODGISTICA in 2004 to bring a new approach to accessing the North American market for select few hotels, resorts, lodges, and niche travel providers around the world.
Ms. Riley's comprehensive knowledge of hotel sales and marketing, catering, food and beverage cost control measures, and club and spa membership management enables her to assess the unique opportunities and challenges for any property and develop sales and marketing strategies to maximize results for your hotel. Ms. Riley is well-respected within the travel industry, and she has enjoyed an impressive track record of consistently increasing sales revenue and profits for her employers and clients throughout her career.
LODGISTICA's private database of more than 10,000 qualified lead-generating contacts at leisure and corporate travel agencies, meeting planners, incentive planners, and select corporate accounts provide Ms. Riley and her team with proven sales targets across America to access for LODGISTICA clients.